Simple, but at the same time unusual and elegant bamboo themes on the wallpaper have already won the commitment of many nature lovers and eco-style fans in the modern design of living spaces thanks to their bright, warm and cheerful colors. Forest wallpapers will emphasize the beauty of any interior and will become the main decoration of your room.
Positive properties and advantages
• first, almost all wallpapers with this theme have bright and rich colors, so even the most boring interior will be filled with light and warm colors;
• due to the fact that bamboo is usually depicted in the rays of sunlight, it is not necessary to use additional lighting to create the desired effect. Even in dark rooms, bamboo images will add brightness and light to your interior;
• quite often, bamboo images are glued to the surface of walls in small rooms: due to vertically arranged bamboo plants, the effect of visually raising the ceilings is created, and your room seems much more spacious than it actually is.
Remember that choosing a picture without pre-planning the design of a room with photo wallpaper as a bright decor is undesirable, because if the color combination is incorrect in the interior, such photo wallpaper will seem superfluous.
Wallpaper with the image of bamboo looks the most harmonious in the Oriental interiors, as well as in rooms decorated in modern style directions, such as modern or minimalism.
An exotic forest of tropical bamboo stalks is an architectural looking wallpaper that seems to soar high on the wall exaggerating the look of the tall bamboo.
Features of color combinations
As a rule, bamboo on a wallpaper is presented in green shades. However, quite often images of bamboo trees can be combined with additional scenes, so other shades may be present in the images. For example, if bamboo is depicted on a photo wallpaper of Africa sceneries, the picture may be presented in yellow or light orange colors.
Quite often you can see beige and brown tones on thematic photo wallpapers with such themes.
Since it is extremely important to choose a shade that will look harmoniously in your interior, you need to navigate the main themes of these photo wallpapers and the color scheme of such patterns:wallpapers of bamboo forest are characterized by an abundance of green and brown, but can be diluted with other colors, for example, yellow (sun), blue (sky) or even pale pink (orchid flowers);bamboo stalks among tall trees are often depicted on jungle wallpapers. Thanks to unusual plants and exotic animals, such patterns can contain a huge number of bright shades, such as red, pink, blue, purple, yellow and many others;bamboo on wallpapers of the savannah in the rays of the setting sun will be a great way to decorate the interior due to the abundance of red and orange shades, so that your room will always have a warm and sunny atmosphere.
Do not forget that vivid scenes in interiors with a neutral color scheme should be emphasized with appropriate accessories. For example, matching pillows, rugs or curtains on windows will be a great addition to bright green or orange photo wallpapers with a bamboo image.
In order to ensure a harmonious pattern, try experimenting with lighting. It is desirable that sunlight or artificial light fall on the photo wallpaper evenly: this way you will ensure the realism of the presented image.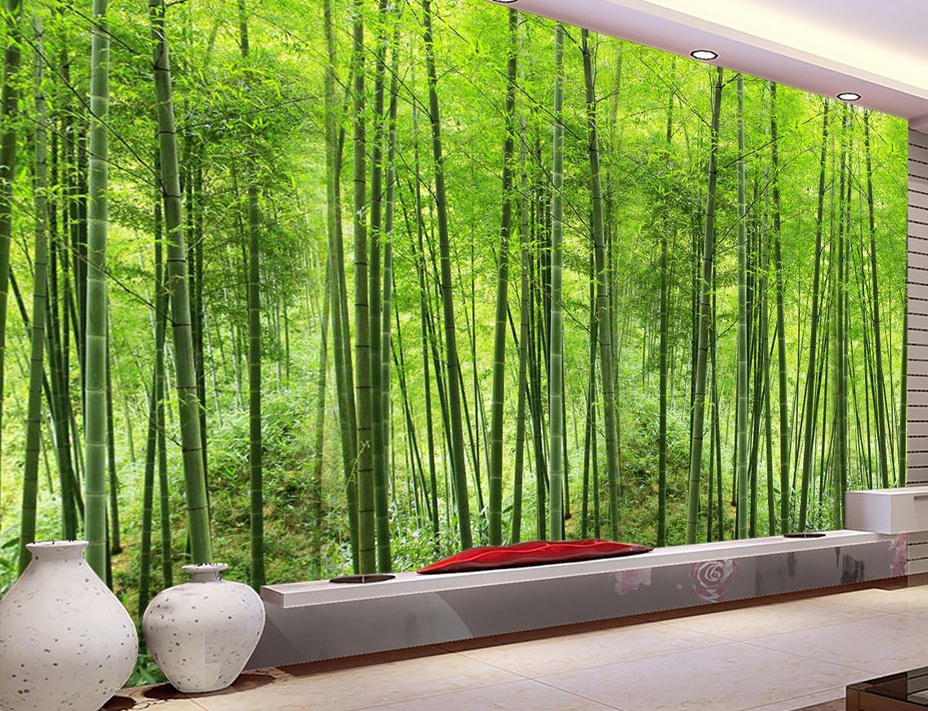 Opportunities for space transforming
The key to a successful decor of your interior will be not only harmoniously selected shades of the image, but also the correct location of such wallpaper in the room.
For example, in the living room, it is advisable to stick such a pattern on the entire surface of the wall, having previously freed this space from unnecessary and bulky pieces of furniture. In the bedroom, a bamboo grove will look original on a decorative wallpapwer hung over the bed.
In the kitchen, you can use such wallpapers to decorate only part of the room or create a separate area (for example, near the dining table), and it is not necessary to use a widescreen image.
Wallpapers with the image of bamboo will find their application even in the hallway, workrooms, in the bathroom, as well as in offices, beauty salons and other rooms. Freshness and energy, blowing from such a picture, will contribute to your relaxation, vitality and good mood.
Depending on the size of the room, the amount of light, as well as the features of the style of the interior, choose panoramic images of a bamboo grove, wallpapers with perspective or pictures with the effect of macro photography.
Bamboo wallpapers represent natural beauty, but at the same time they are distinguished by their rigor and conciseness, so such pictures will find their application in any functional area of your home. Thanks to the bright and rich shades of green, its rich colors in the interior of the room will always maintain the atmosphere of summer warmth, morning freshness and sunlight, which makes the Wallpaper with the image of bamboo so popular among fans of summer and exotic.